We all want to be leaders who deliver strong results while creating an engaging work environment for our team.
But often we just don't know where to start.
Reading can help. Because – as author Ryan Holiday says – "Reading is the only way [we] can live multiple lives".
So, through reading, we leverage the wisdom of great leaders who came before us. And move onwards and upwards.
Here are 5 books to help you level up your leadership »
1. The Advantage by Patrick Lencioni
Key points
Strong organisations are healthy and smart
Organisational health depends on a cohesive leadership team, strategic clarity, overcommunication, and strategy-aligned ways of working
Clarity comes from answering: why do we exist? How will we succeed? What do we do? Who does what? What are our priorities? How will we behave?
The single greatest advantage any company can achieve is organisational health

Patrick Lencioni
Read a summary of The Advantage.
2. Measure What Matters by John Doerr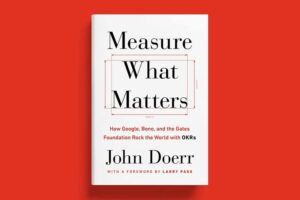 Key points
Objectives and key results (OKRs) are a simple and collaborative goal setting method
OKRs comprise an objective (what to achieve) and key results (how to achieve the objective)
OKRs have helped many organisations (including Google) stretch for ambitious goals
An effective goal-setting system starts with disciplined thinking at the top, with leaders who invest the time and energy to choose what counts

John Doerr
Read a summary of Measure What Matters.
3. Traction by Gino Wickman
Key points
Successful organisations have a great management system
Great systems include a vision, data, processes, traction, issues resolution and the right people in the right seats
The system must flow and cascade throughout the organisation
Clarify your vision and you will make better decisions about people, processes, finances, strategies and customers

Gino Wickman
Download our free Strategic Planning Workshop Facilitation Guide.
4. The Five Dysfunctions of a Team by Patrick Lencioni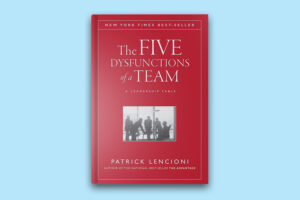 Key points
The five causes of team dysfunction are low trust, fear of conflict, low commitment, low accountability and inattention to results
These lead to team failure if unaddressed
High performing teams build trust, which allows open and honest communication, which builds commitment to shared goals, which establishes accountability, which prioritises team results over individual achievements
Trust is knowing that when a team member does push you, they're doing it because they care about the team

Patrick Lencioni
Read a summary of The Five Dysfunctions of a Team.
5. Radical Candor by Kim Scott
Key points
'Radical candour' is challenging each other directly with a high degree of care for one another
Doing so builds trust and enables people to grow
Often, people show care, but don't challenge directly: this is 'ruinous empathy'. Or we challenge directly without care, which is 'obnoxious aggression'
The best way to keep superstars happy is to challenge them and make sure they are constantly learning

Kim Scott
Read about the importance of feedback.
Where to next